410 Napoleon
St. Jacob, IL 62281
618-644-5715
Silk Screening and Heat Pressing
120 Jessica Dr.
St. Jacob, IL 62281
618-660-6586
Email Argus Construction Inc.
Residential & Commercial, Complete Interior & Exterior Home Improvements, Licensed & Insured, Free Estimates, Over 30 years of experience. No job is too small!

Specializing in: Basements, Kitchens, Bath, Garages, Siding, Decks, Room Additions, Windows/Doors, Flooring, Custom Trim, Electric, Painting, Plumbing, Concrete, Repairs.
Auto Xtreme Collision Inc.
412 N. Douglas
St. Jacob, IL 62281
618-644-5810
Complete Auto Body Repair Specialists
Free Estimates
303 E. Third
St. Jacob, IL 62281
618-644-5912
Quality Floor Care
1711 State Route 4
St. Jacob, IL 62281
618-644-2500
A full-service equestrian center offering premium boarding services, private and group riding instruction, training, sales, and hosting of numerous horse shows, clinics and events throughout the year. Also home to Bridge the Divide, a non-profit organization formed to provide opportunities for specially challenged children to ride and care for horses.
107 N Douglas
St. Jacob, IL 62281
Gateway Business Services Inc.
308 Jacob St.
St. Jacob, IL 62281
618-667-5006
CPA - Accounting, Payroll, and Tax Services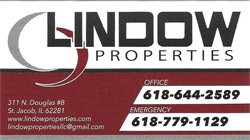 Randy's Towing and Hauling
705 N Douglas
St. Jacob, IL 62281
618-667-7050
618-644-5476
411 Napoleon St.
St. Jacob, IL 62281
Smiley Heating and Cooling
2760 Sportsmans Lake Rd
St Jacob, IL
618-644-2543
705 N Douglas St
St Jacob, IL
618-644-9288
Gas Station, Convenience Store and Bar